Our mission at zeb is to enhance the performance and competitive strength of our clients. To achieve this, we bring diverse perspectives of the smartest minds together—because we believe that diversity generates the best results both for our clients and for our employees. With our women@zeb network, we wish to promote the exchange of thoughts and experiences of various groups among themselves and with others. Several times a year, we organize get-togethers—always on different topics, prepared by one of our female consultants. In doing so, we also explicitly aim for exchanges with other networks or people in order to learn from them or pass on our own expertise.
Our Offer
Network
women@zeb creates a special framework for networking with other female consultants and offers workshops and opportunities to exchange experiences.
Development
You alone decide where your career should go! Career planning, a variety of working models and training programs make it possible for your career to fit in with your life in the long term.
Support
With our buddy program you will have a female colleague at your side during the recruiting process and at the start of your career, who will support you in onboarding and provide you with helpful background information.
FROM OUR NETWORK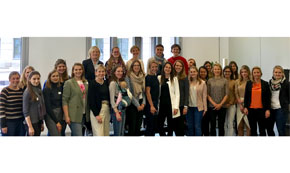 Summer Meeting 2019
Our Summer women@zeb network event was all about making your way to the top-management. Elke Benning-Rohnke gave an inspirational keynote about her career. In a subsequent coaching session she gave meaningful tips on successful self-marketing and visibility.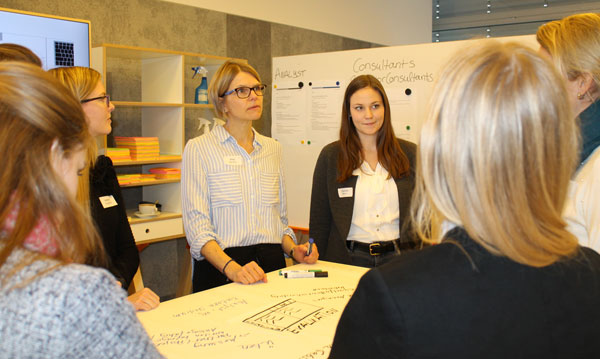 Spring Meeting 2019
Muenster. The first women@zeb network event in 2019 focused on Successful Relationship Management. Valuable hints and experiences were exchanged during an exciting and informative panel discussion with Dr. Katrin Lumma, Franz-Josef Reuter and Wolfgang Essing. Afterwards, the participants met for a World Café to analyze insights from the discussion in view of the aspects do's & don'ts, important skills and evaluation, which were complemented by experiences made by our female consultants.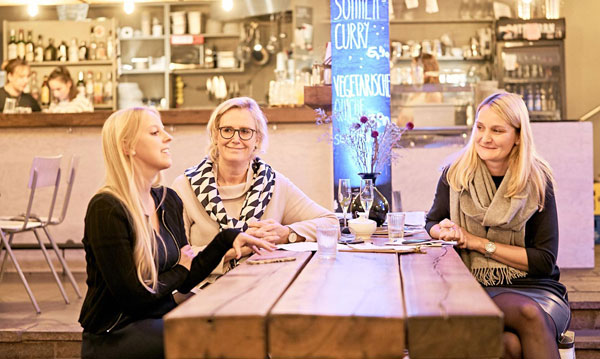 Winter Meeting 2019
At the winter edition of our women@zeb meeting in Münster, the focus was on professional networking in social media. Laura Pfannemüller, Wiebke Salhofen and Katrin Lumma hosted the lively discussion and shared interesting key notes on establishing and expanding personal networks. The interview with Sandra Götting, founder of roestbar, and the subsequent get-together rounded off the event. We would like to thank the speakers for the fascinating insights and look forward to continuing the discussion in the spring of 2020!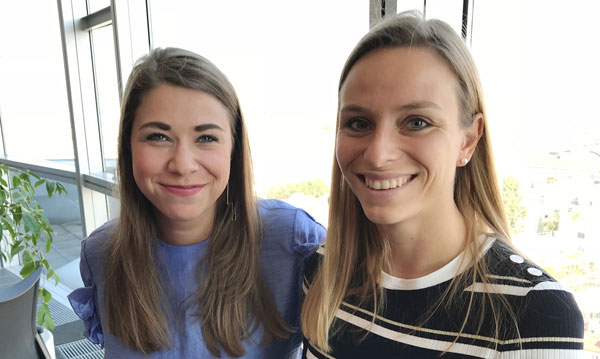 Autumn Meeting
Vienna. Our women@zeb took off by a keynote speech by Mag. Michaela Rammel from RLB Niederösterreich-Wien, who talked about her impressive career and her experiences as a woman in an executive position. Also on the agenda were a workshop on acquisitions and several other exciting speeches. Naturally, the opportunity for a tour of the city followed by a drink at Heuriger Kierlinger was also too good to miss.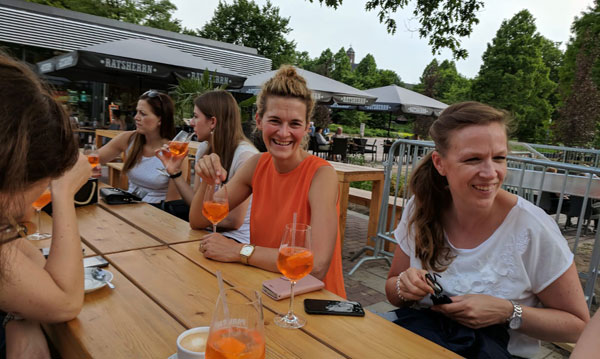 Summer Meeting
Hamburg. We started off with an enjoyable lunch at Planten un Blomen. Afterwards, we had an interactive coaching session at the Beehive Coworking Space where we experienced how to make even better use of our strengths in various situations.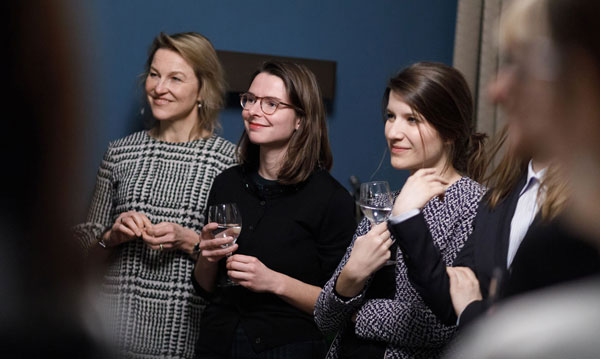 Spring Meeting
Berlin. At our women@zeb spring meeting we got together for an exchange of thoughts and experiences. Our guest was Tanja Mueller-Ziegler, board member of the Berliner Sparkasse, who proved to be an inspiring example of female leadership.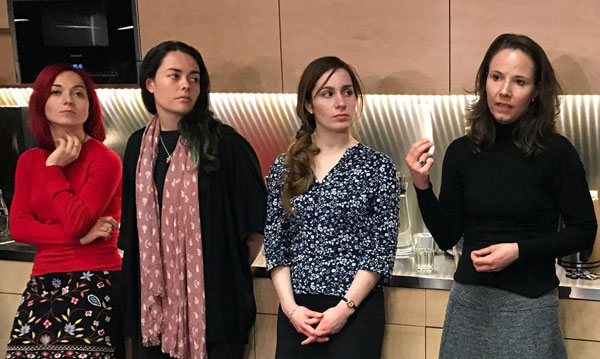 FinTech Ladies@zeb
Berlin. In March 2018, the FinTech Ladies met at zeb's Berlin office. We had a lively discussion about where the fintech sector is heading and how it is integrating itself into the market alongside the established players.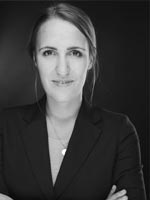 Milena Rottensteiner, Senior Consultant
What do you like about your job at zeb?
The degree of freedom in the organization and design of one's own work. This concerns the time-related and geographical component and especially the content-related topic development: Set impulses and drive topics that inspire you.
What kind of advice do you have for women who are interested in a career in consulting?
Especially we as women should be aware of what we stand for personally and of what is important to us. Women should only adapt within these limits and not lose their individuality.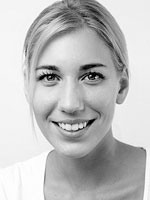 Alice Hammarroth, Manager
How are you being supported? How do you support others?
Aside from having friends around at the office I always feel comfortable asking my superiors of ad hoc help. I think our very friendly atmosphere helps us all to feel safe and therefore support is not hard to get.
What is your advice to women that are interested in starting a career in consulting?
If you work hard and if you always try to be a good team player then both your colleagues and clients will appreciate you and what you do. This applies regardless if you are a man or a woman. If you need help, ask a colleague/superior in time so that there is always margins to deliver to the client on time.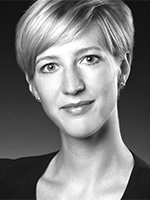 Dr. Reemda Jaeschke, Manager
What is so special about being a consultant—how do you experience the day-to-day consulting life?
No day is like another. You never cease to learn new things on every project. I like the continuous development. And the everyday consulting life definitively gives us this opportunity.
What kind of advice do you have for women who are interested in a career in consulting?
Just do it! Just thinking about it means you seem to be interested. And you won't be able to stop thinking about it until you give it a go. You can still do a "normal" job later.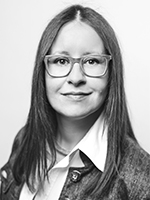 Judith Böß, Senior Manager
What do you like about your job at zeb?
To be able to take the road less traveled by in search of new paths.
How do you support others?
I always try to keep a patch of sky above their lives.
What kind of advice do you have for women who are interested in a career in consulting?
Be a first class edition of yourself, not a second-rate copy of someone else.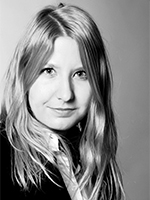 Katharina Krüger, Senior Consultant
What do you like about your job at zeb?
In my opinion, the flexible advancement opportunities are outstanding. As a result, the potential to influence your own career is very high. And there is plenty of room for participation in developing topics and driving change.
What is so special about being a consultant—how do you experience the day-to-day consulting life?
We do a lot together as a team. We work together very intensively and we also go out to dinner after work. Teamwork on the project is of utmost importance: everyone has their own tasks, of course, but only all tasks combined make up the big picture. Traveling a lot and getting to know many different clients and countries together creates a bond between us.
Do you have any questions?
I am happy to discuss them with you.
Your contact person
Lisa Anne Dieudonné
|
Recruiting & Employer Branding
E-mail:
lisa-anne.dieudonne

[at]

zeb [dot] de